Finding vendors for your wedding is no easy feat.   There are countless options to choose from and all the choices can be extremely overwhelming.  It took me months to choose my vendors, but I am so happy that I was so picky because I choose some amazing people to work with that I know are going to make our wedding day so special.
The most important decision was finding a wedding photographer.  OMG, the struggle was real!!!!  There are so many great photographers and also, a lot of not so great ones.  Once you filter through all the photos, albums, rates etc. and you narrow it down to a few options I suggest choosing the photographer you would want to spend time with and that will work hardest for you.
Steve and I chose photographer Kelly Kollar.  While I loved Kelly's photos, what I appreciated most was that she took the time to research who we were.  Without even saying anything, she knew about my blog, my Instagram and I knew we weren't just another couple or a date on the calendar.  I knew Kelly would work very hard to create amazing imagery that we will cherish forever and at the end of the day, that's the most important thing.
Meet Kelly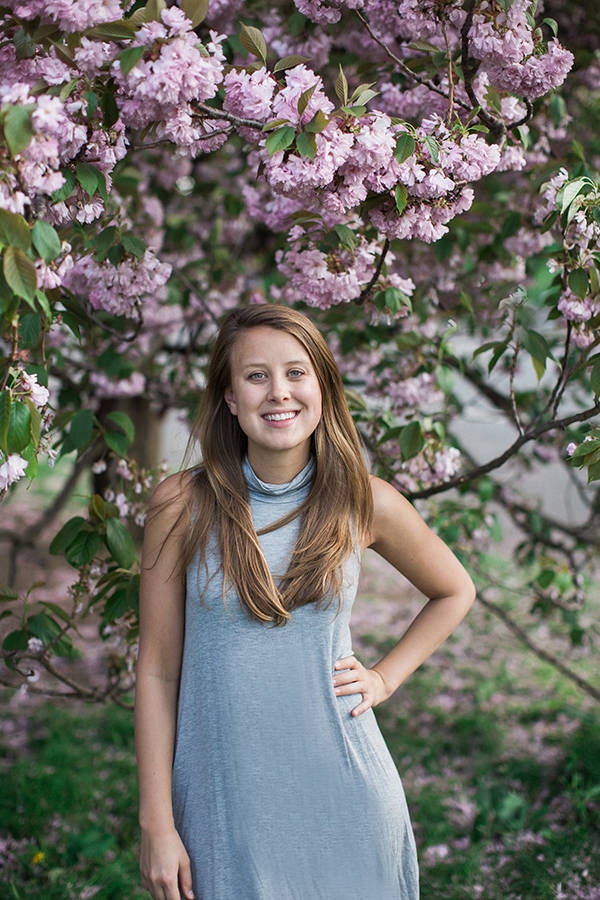 Q+A with Kelly Kollar
Describe your wedding photography style in less than 5 adjectives
-Romantic, organic, colorful, soft, joyful
What do you love most about shooting weddings?
I love the chance to be creative and take beautiful images every weekend.  I feel incredibly lucky to be able to be an artist and also run a profitable business… it takes a lot of hard work and hustle, but it's completely worth it.  There is so much positive energy around weddings and couples are always excited to get their photos.  It's very rewarding on a regular basis – and that's pretty amazing.
What's are 3 questions every bride and groom should ask before booking a photographer?
One a really basic level, I think couples should ask to see full wedding galleries before hiring a photographer.  A lot of photographers can make a really lovely blog post or instagram feed, but delivering an entire wedding photographed consistently and with expertise from start to finish is a different story.  Really excellent wedding photographers will have plenty of full galleries they are happy to share.
It's also important to ask you photographer about their studio and about how they run their business.  You want to make sure you understand if you are working with an individual who is running a boutique business from a home office or share-space, or if you are working with a bigger studio which employees multiple photographers, editors and album designers.  There are pros and cons to each of these options, but for me, I LOVE being independent. That one-on-one approach really defines my company and the experience my clients have.
To turn this around a little bit, one question I like to ask my couples is – when you close your eyes and imagine your wedding day, what is the first thing you envision?  This really helps me figure out what their priorities are and what about their wedding gets them the most excited.  Likewise, I love answering that question – my favorite part of a wedding is photographing the bride and groom right after the ceremony, when the excitement and joy is just spilling out of them.  I think those things can tell you a lot about the person you are thinking about working with, weather it's the client or the photographer.
What makes a great wedding photographer?
A great wedding photographer is confident in their approach.  They know how to capture any wedding from their distinct perspective, while still allowing the client's personal style and unique energy to be expressed.  Some weddings are much easier to photograph than others, and a great photographer needs to make every wedding look beautiful and fit into their distinct aesthetic.  Being great doesn't mean you have to photograph in a certain style, but it does mean owning your style and applying it consistently.  Your clients should get what they are hoping for when they choose you out of the many photographers they could have hired.
What's one thing you'd like every bride and groom to think about before their wedding?
Every couple needs to discuss what their priorities are on their wedding day.  The day always flies by and it's important to spend that time doing what you really want to be doing.   A lot of couples think they want to take photos in a lot of locations, or in a lot of different combinations with family and wedding party, but that can be exhausting and usually isn't much fun!  The reality is, spending quality time in one or two spots and limiting the number of "must have" group photos allows your photographer to create really high quality, beautiful images, instead of rushing through to fit a lot in a small amount of time.  Figuring out what you really want from your photos makes the process more relaxing and enjoyable and in the end you get much better photos.  It's even better if you can figure this out before you hire your photographer, so you can make sure to hire someone who fits what you are looking for.  If you don't really want to spend a lot of time taking portraits on your wedding day, then you really should hire someone who is more candid in style.  If you are going to invest in someone who creates fine art portraits, you need to realize that that kind of process takes time and you should be wiling to dedicate part of your day to photography (it's worth it!).  There's no right way to do things, but it makes everything easier if you can prioritize.
What have you learned from the different weddings you've shot over the years?
So much!  Shooting weddings really teaches you to think on your feet.  Sometimes the lighting sucks and you have to run a portrait session and you just have to make it work.  That's not easy, and dealing with those tough situations under pressure can only be learned over time.  I've learned to slow down and not to panic.  Handling yourself with confidence makes your clients confident in you, and that makes your job much easier.
The other thing I've finally learned is not to put your camera away until you get in the car to go home!  Some many times I've been packed up and walking out the door, only to look back and see the venue lit up in the moonlight and know I need to unpack and get that shot…  So now I save myself the effort and always leave a camera out.
What makes a great shot?
Usually, the best shots are ones that capture a natural moment between the couple.  I can spend an hour taking lovely portraits, but then the couple's favorite image will be the impromptu moment when the groom kisses his bride on the hand as they walk away from the session… that's why as a photographer it's so important to always be paying attention so you don't miss those kinds of unscripted moments.
Who are 5 professional photographers work you admire?
Greg Finck – I came to Greg's work through the world of wedding photography instagram and it really embodies everything I love about this job.  He manages to perfectly balance the fine art approach that I love, with candid, raw moments.  His work makes me feel the emotions in a way that a lot of photography doesn't.  I would love to take one of his mentor sessions – I am sure it would be career changing.
Millay + Young – I actually know this husband and wife wedding photographer team of Elisabeth and Jonathan really well and I admire them so much.  They were the first photographers that I ever worked for and they inspired me to love wedding photography.  I didn't know anything when they took me under their wing and their work has influenced me more than I can express.
Sebastião Salgado – Sebastião is a famous travel photographer who's work I have loved since studying him in college.  He is able to create portraits of people, animals and landscapes that are so charged with emotions that they almost make me cry.  I saw an exhibit of his work in Madrid called "Genesis" that featured black and white photos of landscapes and people from around the world as it related the climate change and it was one of the most beautiful and tragic things I've seen.
Pete Souza – Pete was the official photographer for Barrack Obama and I think that's probably the coolest job in the world.  He's an awesome photojournalist, but more importantly he was able to capture moments that allowed America to see the president as human and not some unrelatable figurehead.  Images he took defined Obama's presidency and his legacy – that's really inspiring.
Lauren Bullen (aka Gypsea Lust) – This one is a little silly, but really very true.  Lauren is an instagram personality who travels the world and gets paid to do it.  More importantly though, her photos are amazing… weather she is modeling or shooting, her work is awesome.  I think it's incredibly inspiring to figure out how to translate a passion for travel into a full time career.  I'm a pretty harsh judge of instagram travel photos and can look at her feed for hours… it makes me pretty jealous!
Where do you seek inspiration?
I do spend a lot of time on Instagram (probably too much!)…. There are so many talented wedding photographers and it can be fun and also a bit overwhelming to follow their work.  I love seeing how different photographers pose couples and frame their photos and I do think that influences my work, even if it is subconscious.
I also am obsessed with traveling, so I find my vacations extremely inspiring.  Seeing different cultures, landscapes and color palettes is so refreshing and makes me excited about photography again.  I went to India a few years ago, and my photos from that trip are some of my favorites ever… and I only had one lens with me.
Please share you 3 favorite wedding images you've taken and explain why.
Photo 1 – I love this photo of Laura and Derek because it is romantic and intimate, but I know that this seemingly private moment happened right in the middle of the reception. The toast had just been completed and Derek leaned over to cheers his new wife and gives her a quick kiss on the forehead… these are the beautiful moments that you can't script.   I just asked them to pause so I could quickly focus my lens on their Champaign flutes and Laura's wedding bands.  I love little details like this that can tell such an intimate story in one shot.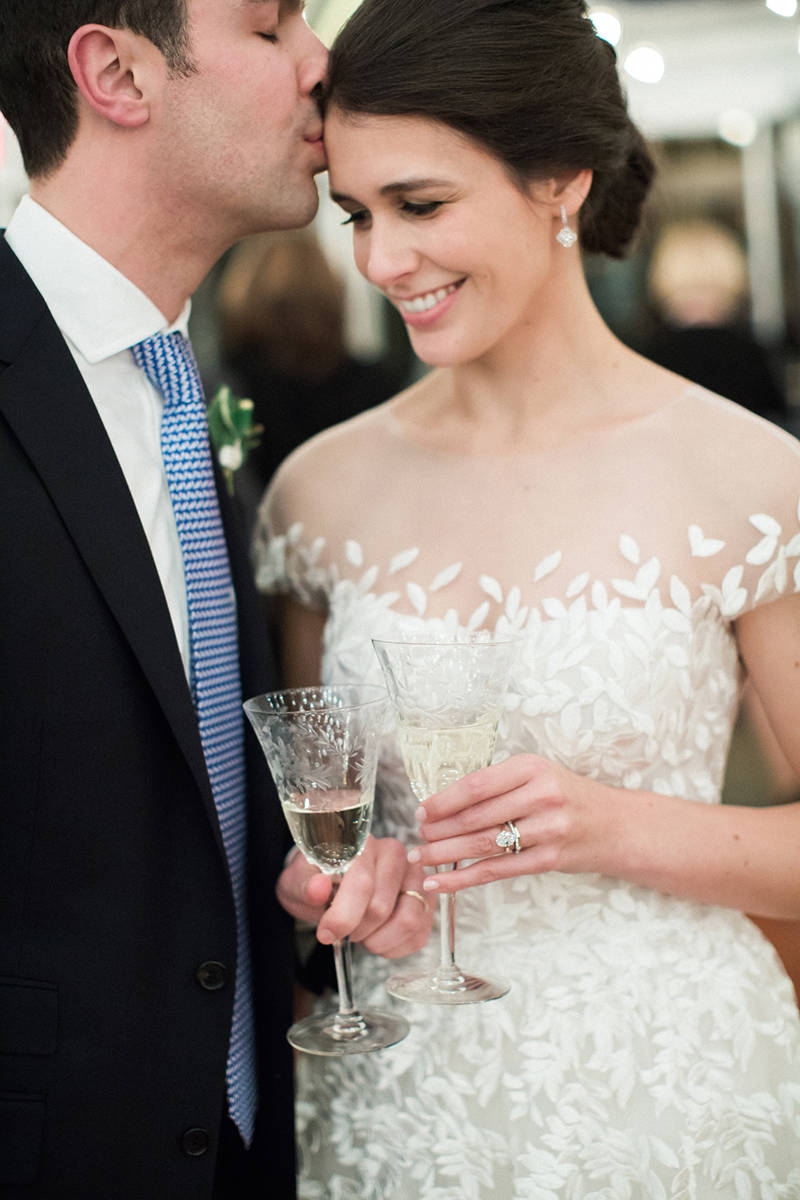 Photos 2 – This is actually a shot from one of my first weddings, but I always come back to it.  Meg and Scott were married at the beach in Cape May, but it rained for most of the day so it wasn't your typical ideal beach situation.  For me though, I couldn't have asked for anything more romantic than the fog and wind!  I took this shot right after the ceremony when we were on our way to the beach for a few drizzly photos… I love how it looks like the world is disappearing behind the couple as they run off together. I find it very romantic.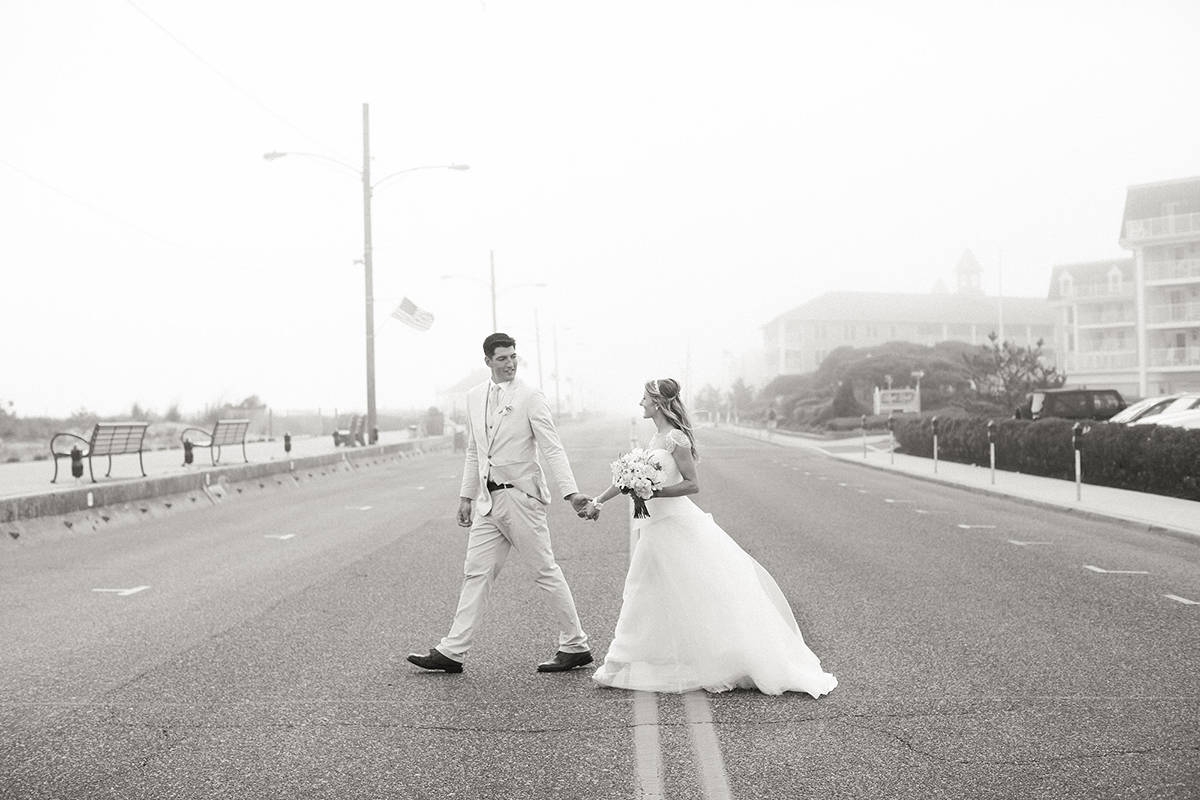 Photo 3 – This last image is really just about capturing a moment of pure joy.  Mille and John had finished their Hindu ceremony and were running down the aisle and their grins were just contagious.  I love the bright colors and the fusion of two cultures.  Weddings that embrace the cultural differences that each partner brings to the table are some of my favorites.  To me, that's what love and marriage is all about.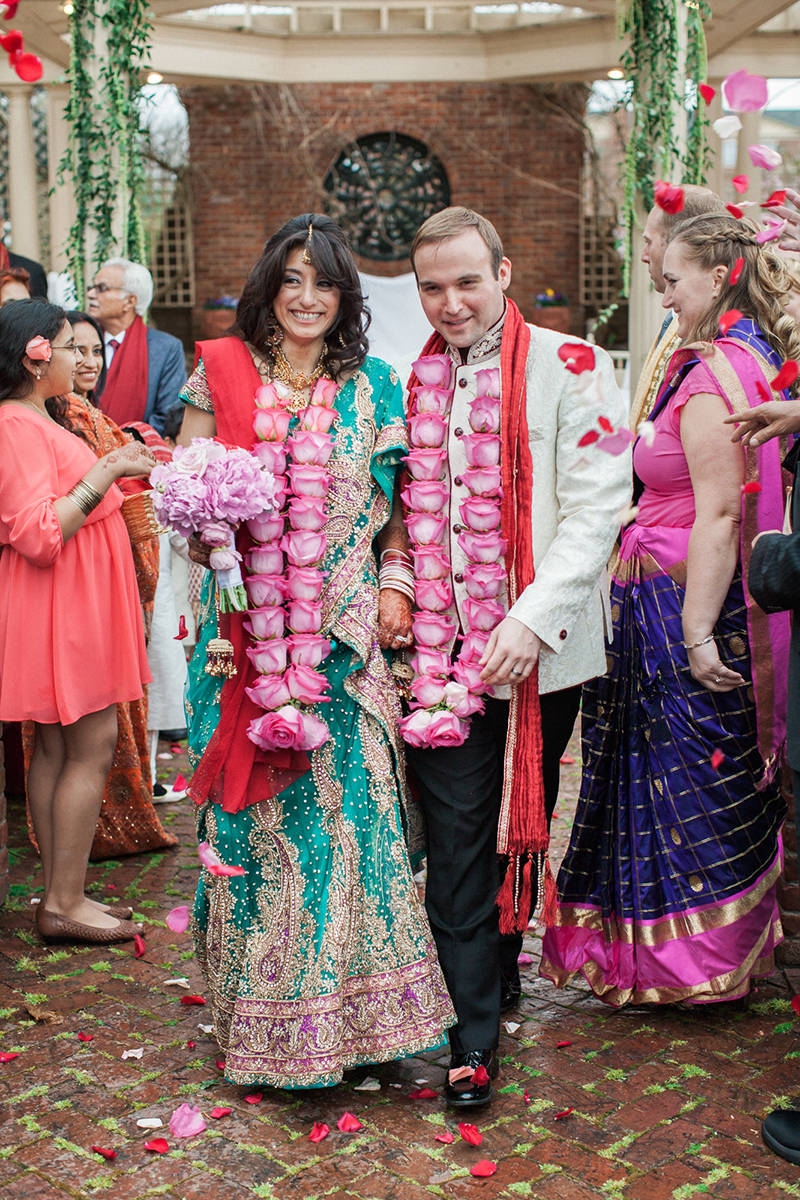 When you shoot a wedding, what are your goals?
When I shoot weddings I have one very concrete goal and one more intangible goal… My concrete goal is to successfully capture all of the key moments throughout the day. My intangible goal (and frankly my more important goal) is to create beautiful images that are in line with my aesthetic and make my clients feel like works of art.
What details do you pay the closest attention to when shooting a wedding?
I love seeing the bride's engagement ring and bouquet, especially if they are creative… they are great props to use when photographing portraits and they really show off a bride's unique style.  There are so many beautiful shots you can take that focus on these items and set the tone for the whole day.
Is it important to meet with the bride and groom before the wedding?
In an ideal world, I prefer to do an engagement session with all of my couples before their wedding as it let's them get comfortable with the process and allows me to walk into the wedding feeling like I am already friends with the bride and groom.  That said, this doesn't always happen, so then it is important to either meet up for a drink or have a group phone call before the wedding to make sure that I know what the couple is looking for and how they are envisioning their day.  I also really like to make sure the groom is included in this pre-wedding conversation… you wouldn't believe how many guys have no idea what the schedule is or where they need to be and often times it's just that no one told them!
Where would your dream wedding photo shoot be?
Oh man… That's a tough one to decide!  I love traveling and colorful backdrops, so probably somewhere in Central America or maybe South East Asia… I visited this amazing city in Guatemala called Antigua where every building was painted a different vibrant color.  That sort of aesthetic really appeals to me, so that would be high on my list!
Can couples do anything prior to the wedding day to make your job easier and the photos better?
Yes, definitely!  This kind of goes back to my earlier point – having a really good conversation with your photographer in advance about your priorities is key to making the process easy and enjoyable.  A lot of couples really want lots of gorgeous portraits, but they don't leave enough time dedicated to the portrait session.  Discussing those needs realistically in advance is super helpful.  It also really helps if couples talk in advance with their families about the style of photography that they've chosen, so that families aren't expecting old fashioned, formal photographs when the couple hired a fine art style photographer.  Often one of the challenges we face as contemporary style photographers is balancing the expectations of the older generation, while still delivering the modern images that our couples love – and having that kind of conversation in advance goes a long way to helping achieve that balance.  Most parents love the images once they see them, so it's helpful to show them in advance what they are getting so they can be as excited as their kids are!
Thank you, Kelly!!!!!
xoxox Kristina