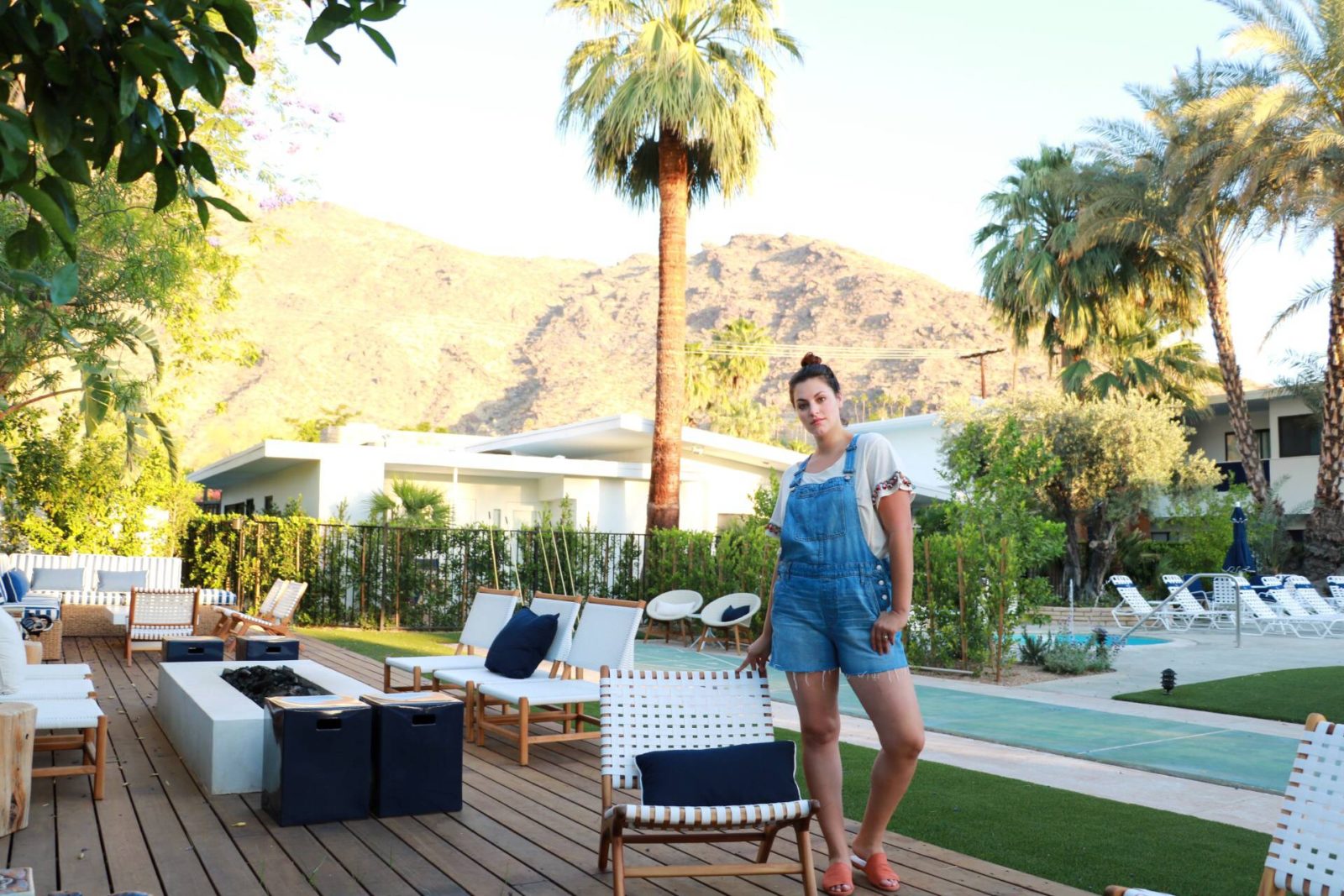 Palm Springs, where I want to be.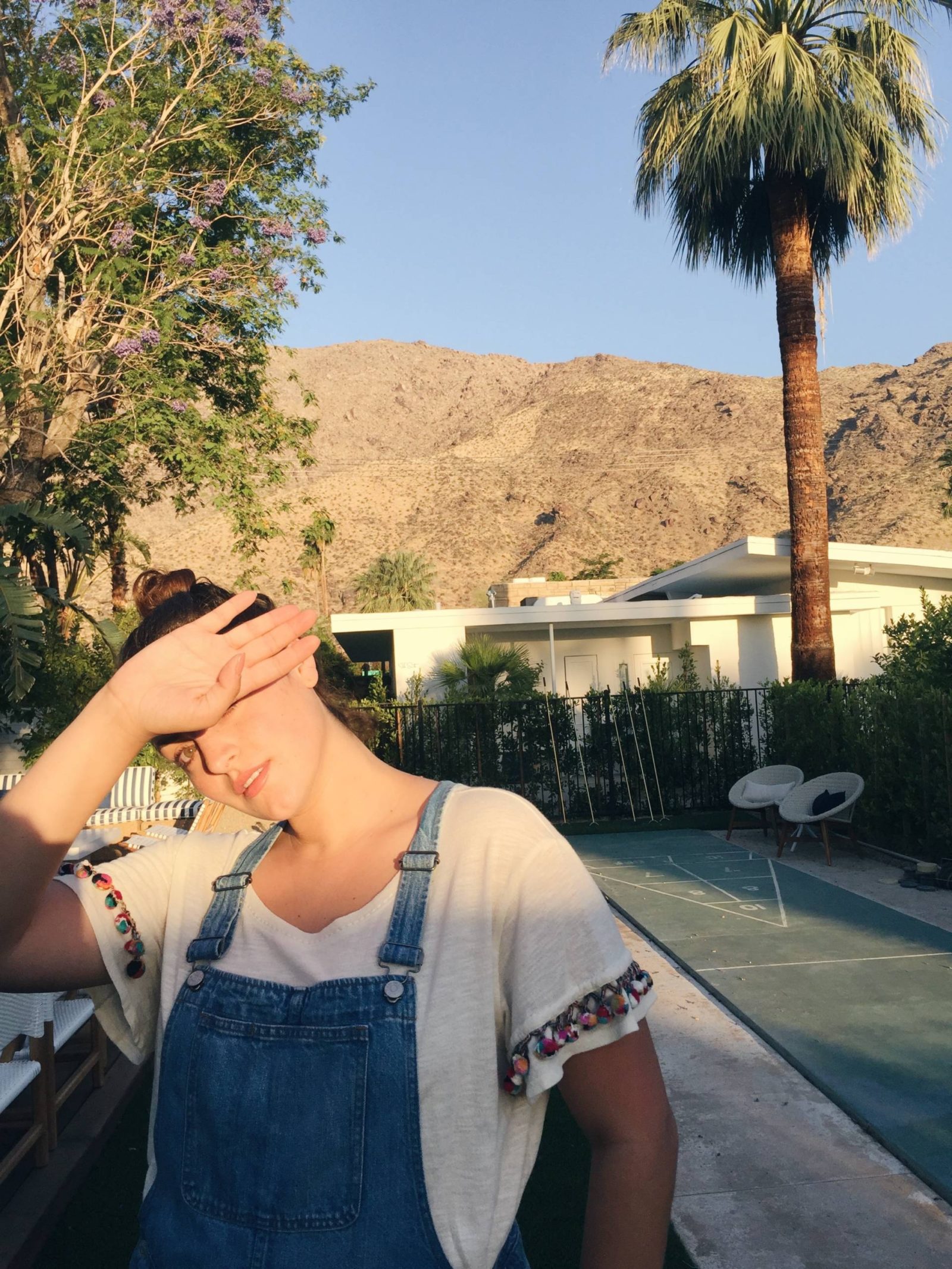 Overalls: Madewell, Pommed Tee: Lilka, Mules: Charles David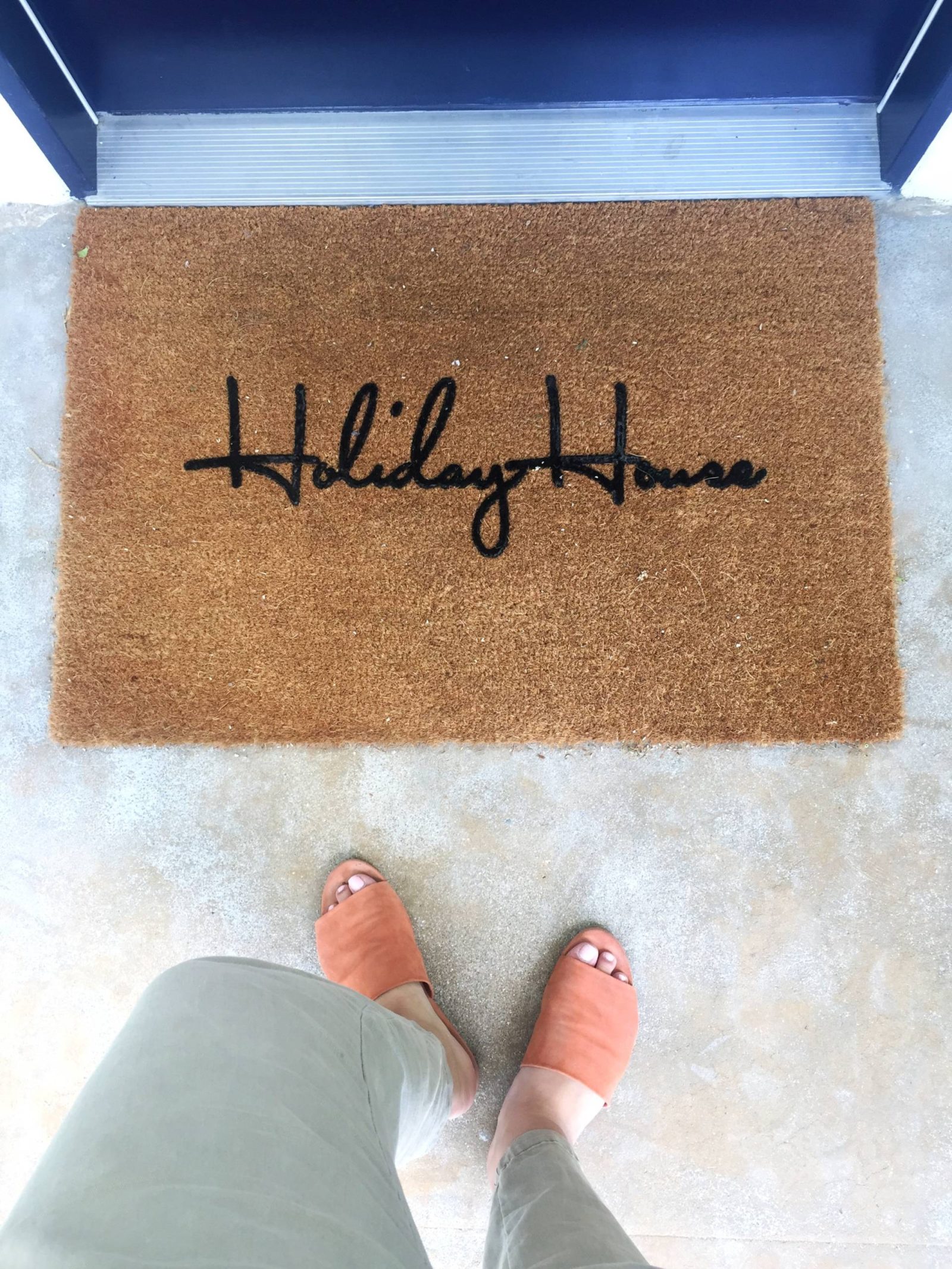 Sometimes nothing is better than a weekend getaway to feed your soul.  Living in Los Angeles, there are several destinations a few hours away but one of my favorites is Palm Springs.  PS is only a 2-hour drive from LA and as you're driving through the San Bernadino mountains, windmills on both sides, you slowly start to feel your shoulders relax and the stress from the big city subside.
I have visited Palm Springs a few times before but each trip has been very different than the last.  This time around I decided to make it a girlfriend's getaway and brought my sister and cousins along.  We stayed at Holiday House, a 28 room boutique hotel, just a block from N. Palm Canyon drive and walking distance to restaurants, shops, and bars with a full-size pool and uninterrupted views of the mountains.    Whether you're visiting Palm Springs for a romantic weekend with your loved one, or for a party weekend with friends, I highly suggest staying at Holiday House.
It feels like you're staying at your best friend's weekend home.  Only your best friend's house has art by Roy Liechtenstein casually displayed in the living room, rosè on tap, and Malin + Goetz product in the guest bathroom.  Your best friend is supremely stylish but also very relaxed, inviting and never pretentious.  That's what it feels like staying at Holiday House.  The midcentury-inspired hotel is fabulously designed by Mark D. Sikes whose work feels stylish and sophisticated yet whimsical and welcoming.  Jason Perry, the hotel manager, as well as the rest of the staff, are incredibly friendly and always offering to help in any way possible, whether it's to make a reservation at their favorite restaurant, secure bikes for a cruise around town, or to top off your drink.
We spent the weekend exploring Palm Springs, relaxing poolside and forgetting about our diet plans waiting for us in LA.
Below are a few Palm Springs recommendations
to ensure an unforgettable weekend getaway.
Stay at Holiday House.  Need convincing?  Read above!
Take the Palm Spring Aerial Tramway.  As I mentioned, I've been to Palm Springs several times and people always recommended the Aeiral Tramway but I never had the desire or thought it would be worth it.  Well, let me tell you that I WAS WRONG.  The tram, which is $25 per person takes you from a cacti-filled desert to an alpine-filled forest within minutes.  The extreme difference between landscapes is stunning and the views from the tram as well as at the top of the San Jacinto mountains are breathtaking.  It is a perfect place to spend a morning hiking, breathing in the fresh air and enjoying the views.
Visit the PSYC spa at the Parker Palm Springs.  The PSYC spa at the Parker is unparalleled.  Upon entrance, you receive a cucumber vodka shot that will instantly put you into relaxation mode.  The facilities are beautiful and feature a steam room, sauna, and indoor pool as well as ample lounge chairs, couches and fruit infused water that will make you want to cancel the rest of your plans and spend the weekend indoors.  I opted for the hour long Thai-inspired massage and I can honestly say it was the best massage I've ever received. Ask for Sergio.
Eat your heart out.  Favorite restaurants include Kings Highway at the Ace Hotel for breakfast or lunch, Le Vallarius for a white glove, fine dining experience, and Cheeky's for the bacon flight, cheeseburger and bloody mary to cure a hangover.
Relax.  A weekend in Palm Springs is best spent relaxing poolside.  Order a mojito, read a book and check out.  Rent a bike and explore the local area and forget about all your worries back home.  Following bike ride, return to the hotel for some more poolside relaxing. Dine. Repeat.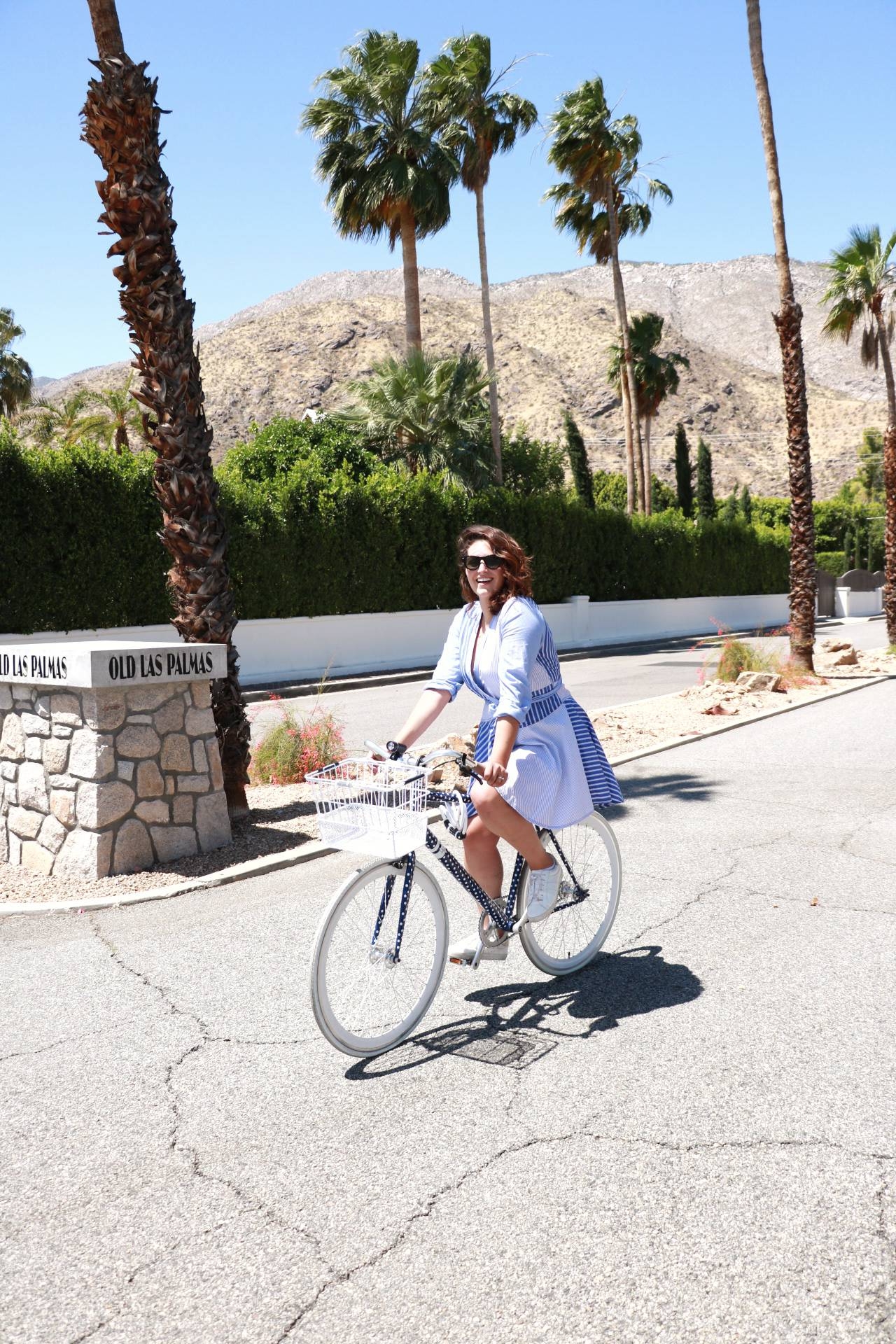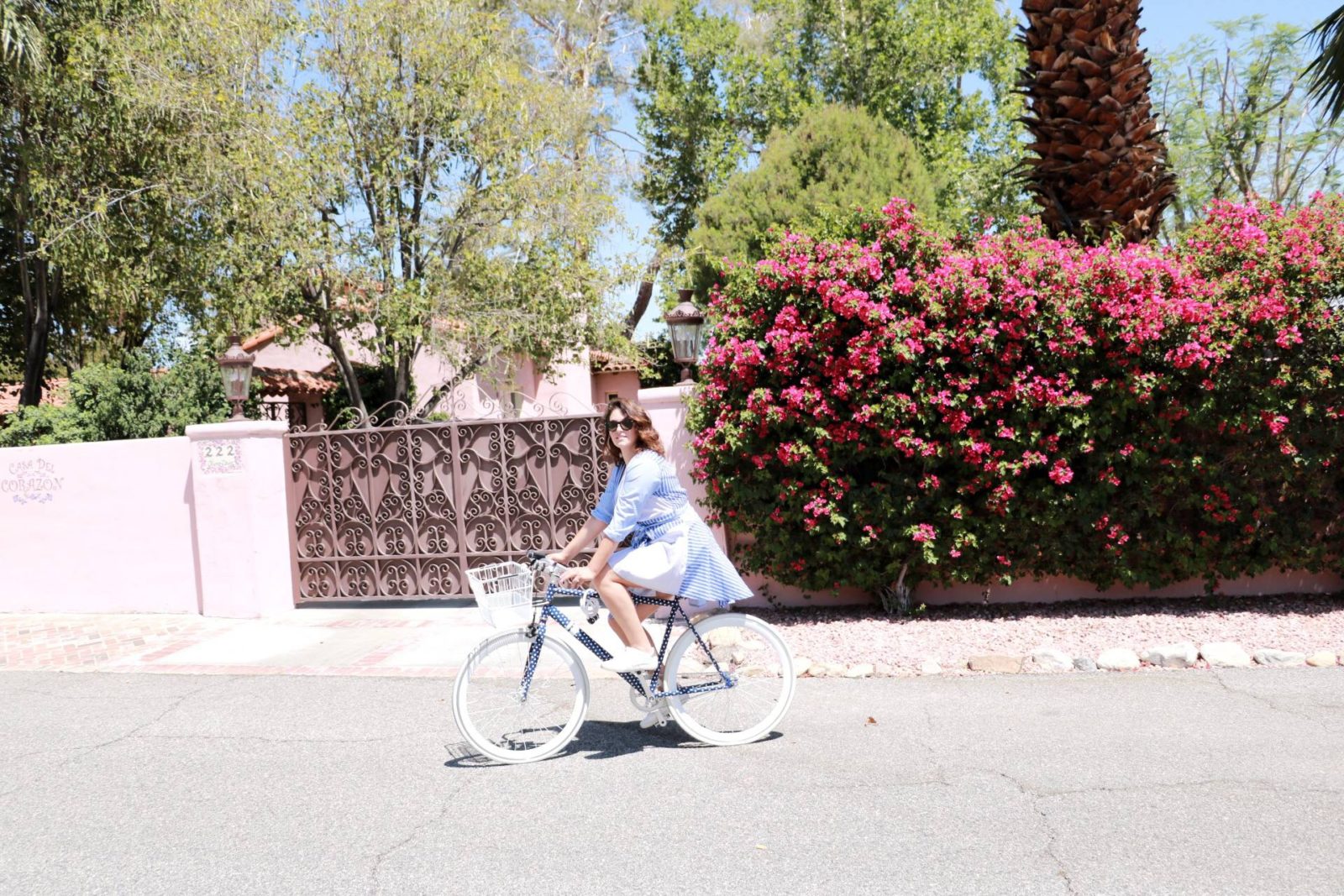 Dress: Maeve, Sneakers: Adidas