The Nordstrom Anniversary Sale Guide for Men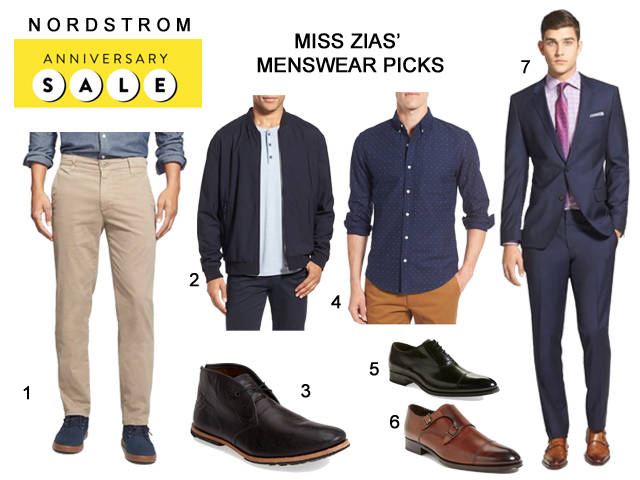 My must have Nordstrom Anniversary Sale Items
Here's the deal with the Nordstrom Anniversary Sale.  It's a 2-week sale where brand new items go on sale for two weeks and after those two weeks, they go back up to full price.  What I really love about the Nordstrom Anniversary Sale sale is that it's the perfect time to stock up on some necessary wardrobe staples: dress shoes and boots, a nice suit, light weight jackets and some jeans and chinos.
Dress Shoes & Boots – Best Deals of the sale, if you don't have a nice pair of black and brown dress shoes this is the time to buy them.

Jackets – Purchase a nice lightweight jacket that you can wear throughout the seasons and can be dressed up or dressed down.

Suiting – Look for a Trim Fit Suit in Navy and Charcoal.  Best brands featured are Boss, Z Zegna and Ted baker, everything else is not a shaped fit.

Pants & Denim – The perfect sale if you need new jeans or chinos.  My favorite denim fits are the Joe's Brixton and Slim Fit (on the Nordstrom website it says they run small but they actually run big- you might need to size down), LOVE the Rag & Bone fit 2 for a nice slim straight cut and if you want to a skinny jean the Rag & Bone fit 1 is great – but warning – it is s k i n n y.  ALSO- please do not purchase any denim that says "relaxed fit or boot cut."  They are just not flattering!  If you have some thunder thighs or extra junk in the trunk, contact me and I will help you find denim for your body.  For chinos, I think every guy needs a pair of AG chinos and a pair (or two) of Bonobos.

Casual Tops & Sweaters – Opt for different colors and patterns or nice staples that you can wear to work and on the weekends.

The Nordstrom Anniversary Sale officially starts the 21st but if you're a Nordstrom card holder you can shop it now.  If you're in LA and want to make an appointment to shop the sale, contact me here.
Let me know what items you scored during the sale!  Happy shopping!
Cheers to fashion, seeing the world and always having fun!
Miss Zias